Beer Boots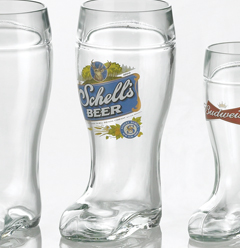 The BEER BOOT is a traditional European drinking vessel. This popular item is always an excellent topic of conversation. The secret to drinking from the boot is to point the toe sideways. When the toe is pointed downward, the boot cannot be easily emptied. When the toe is pointed upwards, the liquid flows out of the boot very quickly and uncontrollably, usually spilling all over the drinker.
Beer Boots can be purchased blank in any quantity for immediate shipment. We also offer them with a variety of stocked decals: Bayern Crest, Bayern Flags motif, Military Emblems, and a Maltese Cross.
Minimum Order Requirements and Charges
For customization, please send us your artwork.
For 1-8 spot colors, our minimum print run is 130 pieces.
For four-color process, our minimum print run is 250 pieces.

Development/setup fees depend on the number of colors and we can give you firm quotes when we see your artwork. Allow 4 weeks for decal printing, 2 weeks for firing.

Many clients print 250-500 decals at a time. We stock the decals in Minnesota and fire them on boots as needed. Reorders usually take 2-3 weeks.
Please drink responsibly.