Pewter Lids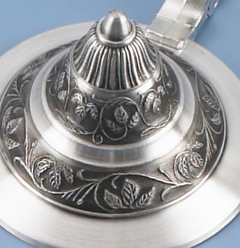 We have a variety of pewter lids to fit every stein project. We offer several lids with an undecorated, flat surface that is ideal for custom-engraving, and our ornate relief lids are the cherry on top of any custom stein project. Custom lid figurines are also available.

Please note that we are business to business only.
The attached pewter lids are not sold separately and are offered to be selected and placed on various stein bodies throughout our line. Note that lids are attached by pouring molten pewter into a mold that shapes the stem (area below the hinge) and then wraps entirely around the handle. Then the mold is removed and any excess pewter is removed and sanded.
We do not supply lids only. They are purchased with stein bodies.
We also make custom lid figurines as well as pewter badges that can be applied to the bodies of steins as well as lids.