Pilsner & Mouth-Blown Glasses European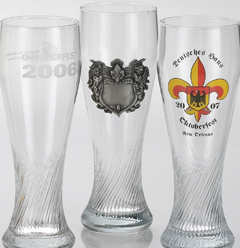 Our EUROPEAN PILSNER GLASSES and EUROPEAN BEER GLASSES
are from the finest factories in Germany. Minimum order: 300 pieces.
1-8 spot colors or four-color process decals are available as well as metallic gold
and silver.
If you would like to add a gold rim to the glass, the additional cost is $0.50 each.

5683B and 32359 are stocked in Minnesota.
Minimum order requirement: 130 pieces.

The 5683B and 5684 Pint Glass are authentic English Pint glasses, featuring an
etch white 1P government stamp on the back.