Starbottom Steins European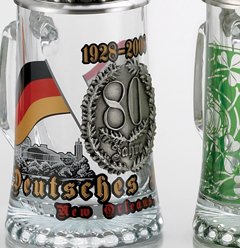 Starbottom Seidels can be purchased blank or customized. Available in a variety of lids (see PEWTER LIDS). Available in 0.3L and 0.5L sizes, these make beautiful commemorative pieces. Stocked pewter medallions or custom medallions can be applied to the glass as well as custom decorations.

Minimum Order Requirements and Charges
1-8 spot color decal decoration: Minimum order 130 pieces
Four-color process decal decoration: Minimum order 250 pieces.
Development/Setup fees range from $50.00 - $300.00 depending on the number of colors.

All decals are charged for separately from the stein body.
We also provide laser engraving services on the glass, as well as the lids or medallions.

Minimum order: 24 pieces. Please send us your artwork for firm laser engraving quotations.

Custom pewter lids (minimum order 500 pieces) or custom medallions (minimum order 200 pieces) are also available. Development/Setup quotations will be quoted on receipt of artwork.