Beer Mugs European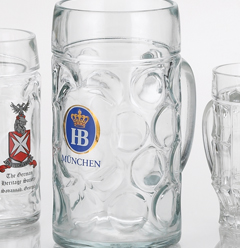 We specialize in European Beer Mugs from the major glass factories in Germany. Most are available in 0.2 liter size to 1.0 liter size. If you do not see the size you desire, please let us know and we will see if it is available. Minimum order requirement is 300 pieces. These beautiful glass mugs and tankards can be purchased blank or with custom decorations. Please allow 90 days shipping.

We stock Item 30250 --the famous Oktoberfest Isar beer mug, pictured at right-- (

Masskrug

in German) at our Minnesota warehouse. This is a generous 1.0 L (33 ounce capacity). Also stocked in 0.5L size, Item 32890, as well as 34646 Strassburg Mug. Minimum order for stocked items is only 100 pieces and delivery time is 45 days.